Patini offers a variety of pleasurable past-times which include from sports through to relaxation desires.

Leave your worries behind and relax on a sun bed in a peaceful environment.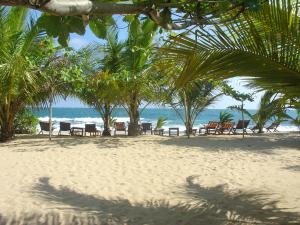 Read a book (French, German, English and other languages) from Patini's small library, stimulate your mind with a Sudoku or choose from one of our indoor or outdoor games (for adults and children) to while away the time.

Enjoy the beautiful sea shells (including the inhabited ones) on this endless stretch of tropical beach.
Refresh yourself playing in the ocean waves.
"Surf" on the ocean waves with our body boards available on request. A real surfing beach is available at the west side of Tangalle. Please read surfing activities at Tangalle.
Snorkelling at Patini was possible few years ago when the sea was very calm. Three snorkelling spots are available at Tangalle, not beautiful but it is possible to see some colourful fish. Please read snorkelling activities at Tangalle.
Watch how to cook Sri Lankan food (many kinds of curries, sambol, ...) while our workers are cooking from about 10am to midday (they speak a very little english but you can watch).
Practice your mind body and soul exercises (tai-chi, meditation, yoga, etc.) in the serene atmosphere of the beach. Some yoga classes are given in a nearby hotel.
Walk along the wild beach or around the mangrove-lagoon.
Run or walk at the magical times of dawn or dusk.
| | |
| --- | --- |
| Sun rise | Sun set |
If you are very lucky, you might see a big turtle come to lay her eggs on the beach or see some dolphins and turtles swimming in the sea in front of Patini (once a year!).

Take a romantic trip by catamaran (typical rowing boat) or paddle yourself by kayaks/canoes on the nearby mangrove lagoon. (1h30 at 6.30am or 4/4.30pm, 1'500 to 3'000 LKR, prices in 2022/23).
Learn about nature reading our books about Mammals, Reptiles, Trees and Mangroves.
Many scooters and bicycles are available to rent in the guesthouses nearby Patini to explore the area, the beaches, the paddy fields.
Play with one of our beach toys (bat, freesbee, body board, children sandy toys).